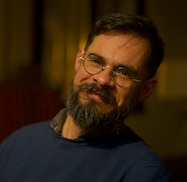 Emmanuel Gaillot
Biography
Emmanuel works as a team coach, (extreme) programmer, therapist,
facilitator, trainer and systems jiggler. For the past 20 years he has
been helping software makers to be better at, prouder of, and happier
about the work they produce. A regular speaker at many conferences,
Emmanuel is one of the founders of the Agile Open France conference[1]
and the Coding Dojo in Paris[2]. He has started Changer / Grandir[3] to
promote Virginia Satir's work to French-speaking audiences, and he is
one of Omnicité[4] workers owners. He currently focuses his energy and
passion on experimenting with accelerated learning processes, shaping
self-organizing structures and co-learning spaces – one of them being a
farm in Massif Central he and others are restoring[5].
[1] https://agileopenfrance.com/
[2] https://www.meetup.com/Dojo-developpement-Paris/
[3] https://changer-grandir.org/
[4] https://omnicite.fr/
[5] https://mc-mallaret.fr/
NewCrafts Paris 2023
Coding as a Yoga Practice: using software development as personal development
Hands-on
The act of coding is often seen as a means to an end: adding features to a product, learning new skills that will look good on a resume, earning money, avoiding pains previously experienced, etc. The value of coding is then indirect, either an effort that will hopefully bare results in the future, or an attempt to fix the past. Such dynamics disconnect us from the present moment and from the current reality. They bring discontent and suffering, by contrasting how what is here and now differs from what (in our mind) should be. Could there be another way of looking at the act of coding, that actually brings calm, peace and joy in the current moment?
Yoga aims at experiencing a (re)union in what manifests inside ourselves (emotions, concepts, hopes and wishes) and outside ourselves (sensory phenomena). There are many methods to reach that aim. Could coding be one of them?
This session aims at starting a conversation that hopefully will continue after the conference. As a starting point, we will introduce different contexts in which the act of coding occurs (coding for oneself, coding for others, coding with others), we will look at specific sources of pain these contexts may foster and some practices that can reduce the impacts of such sources of pain. Participants will then be invited to respond and bring their own ideas in a fishbowl conversation format.
We will conclude the session with evoking some future paths remaining yet to be explored.