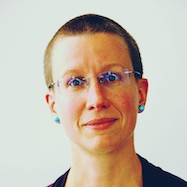 Biography
Cosima is an independent agile leadership coach and socio-technical consultant with a demonstrated history of working in a variety of industries (automotive, finance & banking, healthcare, travel & tourism).
Having a strong background as developer and people lead in IT engineering, over the last decade she enhanced her portfolio with solid coaching skills (ICF-PCC) and university studies focused on I/O- and Health Psychology.
Cosima cares more about systems thinking than local optimization, she is an introvert, a runner and a passionate community gardener (involved in several Open Spaces & other community events on Agility, Software Craft and DDD). Her credo is: respect & adapt, to achieve more TOGETHER!
NewCrafts Paris 2023
Sustainable Pace?! How self-care actually boosts teamwork
Talk
Finding the right balance at work is neither an individual task nor is it only a team's responsibility. It's an interaction of both - and more! Leaders also play a vital role as they often (still) have a higher organizational lever.
In this session I will:
1. define what sustainable pace is
2. share common pitfalls that can "unbalance" a system (i.e. team, whole company, and also yourself)
3. offer simple yet powerful self-care practises for individuals and for teams
4. mix in psychological background (e.g. on stress & coping)
YOU are invited!