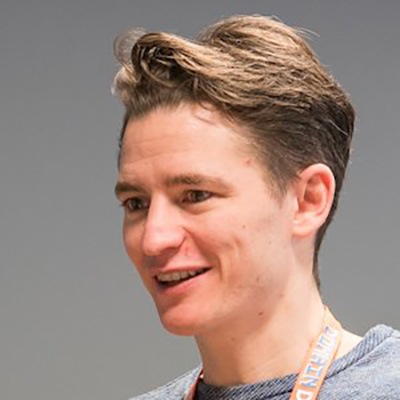 Marijn Huizenveld
Biography
Marijn works as an independent software consultant for (corporate) startups and scale-ups within Europe. He studied business school (boring though useful) and moonlighted as a freelance software engineer (bringing a lean mindset to corporates).
After getting stung by the start-up bug he founded a SaaS business in which he was involved for the next 6 years (lots of impact, limited private life). This experience provided him with a realistic perspective on business and firm roots in software architecture. He was at the frontier of event-sourced domain models in PHP and has been actively involved in the DDD community since its revival around 2012.
These days he helps his customers to apply the lessons he picked up along the way, in order to make software that propels organizations forward. To support his clients he develops tools (such as Chameleon) that augment the software delivery process which makes teams more effective. He also laughs at his own jokes, for reasons unknown cause they typically aren't funny. Join the session to see if you agree.
NewCrafts Paris 2023
How to relate your OKRs to your technical real-estate
Talk
TL,DR; Successful initiatives to change software architectures are directed at achieving an outcome, rather than producing output. Objectives & Key Results provide an accessible mechanism to set and track desired outcomes as goals. Wardley Maps enable software teams to challenge the goals by linking the higher level objectives to constraints in the domain model and in the software architecture.
When was the last time that you saw an organization that frequently was saying goodbye to features or entire products? Most organizations keep their systems around for a considerable amount of time. As a consequence of that, teams are faced with ever growing complexity thanks to the mesh of products, services, technology, and the people that work to build, operate, and maintain these things. Even if solutions are contained within system boundaries, the landscape made up of interconnected systems may become a beast of its own. This poses a challenge for people that want to improve systems and change the landscape...
To make matters worse, choosing what opportunities to pursue is a challenge by itself. You may have a team that is able to solve a problem the right way, but what helps this team to solve the right problem? How can they continuously validate their progress – or the absence of progress – with people in "tech" and "non-tech" roles? And what should they do when new opportunities present themselves? Is the plan they had still valid?
Strategy is more than setting crazy ambitious goals...
Strategy is about playing your cards right: A good strategy takes into account the resources that can be leveraged, and the constraints that limit what can be done. But how do you devise a strategy, and what can you do to implement it?
This talk is about collaborative product ownership. How teams can discover and implement solutions to business problems that are both feasible and sustainable.
Imagine:
a way to visualize and clarify to the relationships between OKRs, hypothesis and the underlying technical constraints within the technical real-estate;
having a common language to talk about problems in context, removing ambiguity and confusion in the process;
and finally a way to collaboratively dive into the nitty gritty detail of the current landscape and the proposed solution;
In this session Marijn Huizendveld will bridge the gap between business goals, the competitive landscape, and the systems in the organization by using OKRs and Wardley Maps.
Expect:
To learn what constitutes a good Objective, Key Result, and Health Metric;
To see how OKRs can be visualized in a Wardley Map;
To capture heuristics that are helpful when mapping OKRs with a team;